My dear sister-in-law ( I should really minus the in-law and just call her sister) --sent me two recipes to try out and I was excited to try them. Sometimes having a healthy to go to snack waiting for you in the fridge can be life saving. Especially, since I claim to Mat that
I'm
hypoglycemic and
I'm about to die after my expired 3hrs of famished hunger---(sometimes it's less than 2hrs if I'm on a road trip.)
Mounds
1 cup walnut pieces, ground into meal
2 scoops vegan chocolate protein powder (46 grams)
1 T. carob powder--I used cocoa
honey to moisten, approx ¼ cup
Form into 1" balls, store in refrigerator
MACA BALLS
½ c. fresh ground almond meal
1 scoop cookies and cream or vanilla protein powder (35 grams)
Form into 1" balls, store in refrigerator
What's maca? I had to do a little research. So, I hit reply to Dannielle's email and asked what in the heck of the world was maca? Reply:
Maca is a root vegetable that is grown in Peru. It is considered a superfood. It is very nutritious and high in protein. It has a nutty flavor. If you need more--
Here's a quick list of the potential benefits of Maca root for you:
• balances mood
• strengthens the skin
• increases energy
• increases libido and fertility
• better sleep
• helps your body adapt to stress
• increases memory and brain power
• anti-aging properties
• anti-acne properties
• increases endurance and stamina
• reduces symptoms of PMS and menopause
• helps to reduce aches and pains
• strengthens hair and reduces hair loss (BONUS for my hair at age 36)
My opinion: Maca has a deep root, nutty flavor. It's different, but good.
This baking spree required a trip to Whole Foods to find maca root powder, coconut flour and quinoa flour for the next recipe below. Of course, when the kids are out of school it requires me taking 3 loud, yet creative kids, to the store. Whole Foods luckily has a treat for them at the cash register, but it doesn't save me from this:
They had a good time making turns in their train line while I tried to quickly scan the shelves for the most unusual, rare flours and powders.
Here are the quinoa cookies I want to try. Don't know if they're good or not, but they're from the chocolate covered Katie website.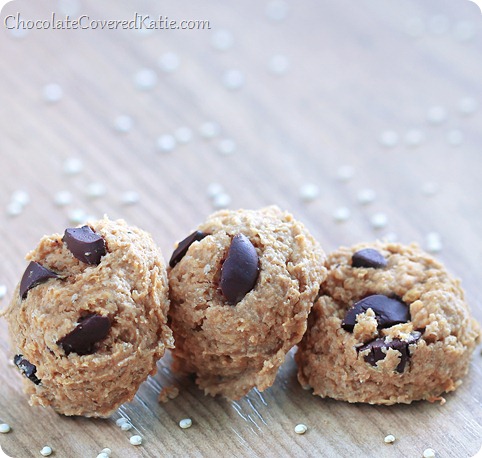 Chocolate Chip Quinoa Cookies
1/2 cup minus 1 tbsp quinoa flour (52g)
1/4 tsp baking soda
1/8 tsp salt
2 packed tbsp brown sugar or coconut sugar (22g)
2 tbsp white sugar or xylitol (20g)
2-4 tbsp chocolate chips, optional
up to 2 tbsp milk of choice, as needed
1/2 tsp pure vanilla extract
1 tbsp plus 1 tsp vegetable or coconut oil (15g)
Quinoa Cookies: (Makes 6-8 quinoa cookies, so feel free to double the recipe!) Preheat oven to 310 F, and lightly grease a cookie tray. In a mixing bowl, stir together all dry ingredients. In a separate bowl, whisk together all liquid ingredients (starting with 1 tbsp milk of choice). Pour wet into dry to form a dough, then add the extra milk of choice if needed. If dough becomes a little too gooey, just freeze 20 minutes or until firm enough to shape into balls. Shape balls, then flatten if a flat cookie is desired. (I did not flatten the ones in the photos.) Bake 8-9 minutes in the middle rack. (As it states on my
Recipe Troubleshooting
page, you should always bake in the middle rack with my recipes, unless otherwise stated.) The cookies should look undercooked when you take them out, which is completely okay: they will continue cooking as they cool. Don't try to remove them from the tray for another 15-20 minutes.